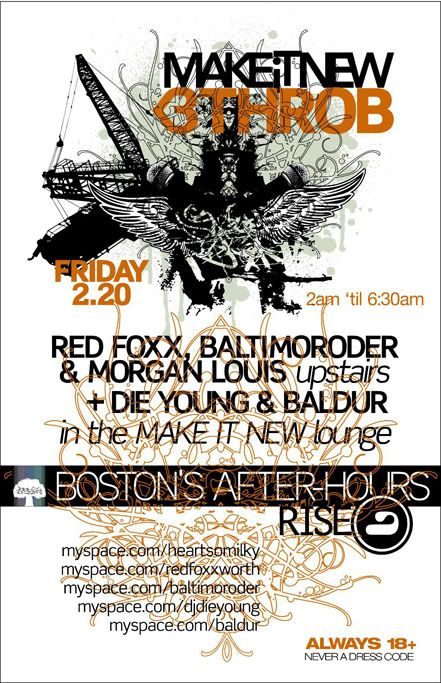 In a town where being a hater is almost an Art, once in a while it's nice to recognize when people are doing their shit right. "
Make it New
" and "
Heartthrob
" for the past couple years have become a fixture in Boston's Midweek nightlife and a lifestyle to dozens of Glamorous Kids on a Hipster bandwagon that seems to have more lives than Felix the Housecat (o_O). Whether it's the Music, or the need to be immortalized on David Day's Camera, the crowd that heads over to Cambridge weekly has at least shown this
Basstown
that having outrageous fun is quite alright. And let's not forget the DJs...
Our friend
Alan "the whole show" Manzi
's residency at Make it New is always a gratification if Techno is what you're into...and
David Day
, the eternal journalist of the Boston nightlife has proven on more than one occasion that his vast knowledge of the
Kompakt
Catalog actually works on a Dancefloor. "Make it New" has build a reputation around here for providing Boston with the touch of Minimal Techno and music that overall revolves around Berlin.
Heartthrob on the other hand seems to be
Michael Alig's
vision of the Future. A Brain Child of
DJ Red Foxx
,
Morgan Louis
and
Baltimoroder
, Heartthrob is Mayhem in a Box. From the epileptic visuals to the abrasive sounds of Electro and Happy Hardcore (o_O), chances are you won't resist the urge to Dance...HARD! Well folks, if you haven't already gone to either of these nights chances are you are reading this in Moscow, or Peabody for that matter. Well...the point I'm really trying to make is that you should head over to
Rise
Tonight and Catch both of these gangs under the same room!!! If you were one to make excuses about going out on a weekday well no excuses anymore...it's Saturday tomorrow. Oh and honestly, where else do you get a chance to dance for more than 4 hours after 2AM? At Rise that's where!!!...and Bring Glow sticks (o_O)...for DJ RedFoxx. That kid's got the Rave in his Blood.