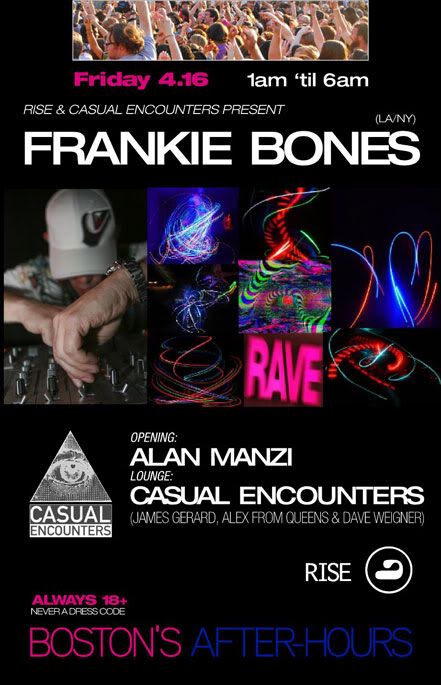 It's only April but it seems already like 2010 has been with us for a long long time. From the Craziness of the the Together Festival to the Insanity that was seeing Juan Atkins, to great performances by Omar S and Traxx, Boston keeps on hosting some of the best DJs, Electronic music has to offer. This time around our friends at Rise and the
Casual Encounters
crew bring you the legendary Frankie Bones!!! We've been hearing corridor rumors about this for months and it's so great to finally see this happening.
Frankie Bones is by many considered the Godfather of the American Rave. In a time when timing meant everything, the buzz of his early works caught the attention of the rapidly growing scenesters during the Summer Of Love in 1988. A year Later Frankie became the first American to DJ at those legendary Raves. "At 5.30am on the 26th August, 1989 Frankie Bones walked on stage in front of 25,000 people. The event was called "Energy", and was to go down in history. Fueled by this experience Frankie took it upon himself to start a scene in his native Brooklyn. These parties exploded, going from just a handful of people to 5,000 people in a warehouse, on September 19th 1992. These parties gave many of todays most revered DJ/producers their first taste: Sven Vath, Adam "X", Josh Wink, Richie Hawtin, Joey Beltram to name just a few".
For those of you new to the scene and for those who are veterans of the "Rave Days", this Friday is yet another chance to rejoice for the good times that passed and those which are yet to come. Expect Boston's best Soundsystem to lead you into the morning. Never been to Rise? It's on the corner of Berkeley and Stuart....You'll see the line, that's a guarantee. Opening Duties by Alan "the whole show" Manzi. James Gerard, Alex from Queens and Dave Weigner for your delight at the Lounge.
Frankie Bones @ Rise Afterhours
1am till 6am
306 Stuart Street
Boston, MA 02116
www.riseclub.us
If you are not a member, email mike@riseclub.us for guest list. Also...Check out the interview with Frankie Bones on this week's Dig:
here
++++Facebook event:
here