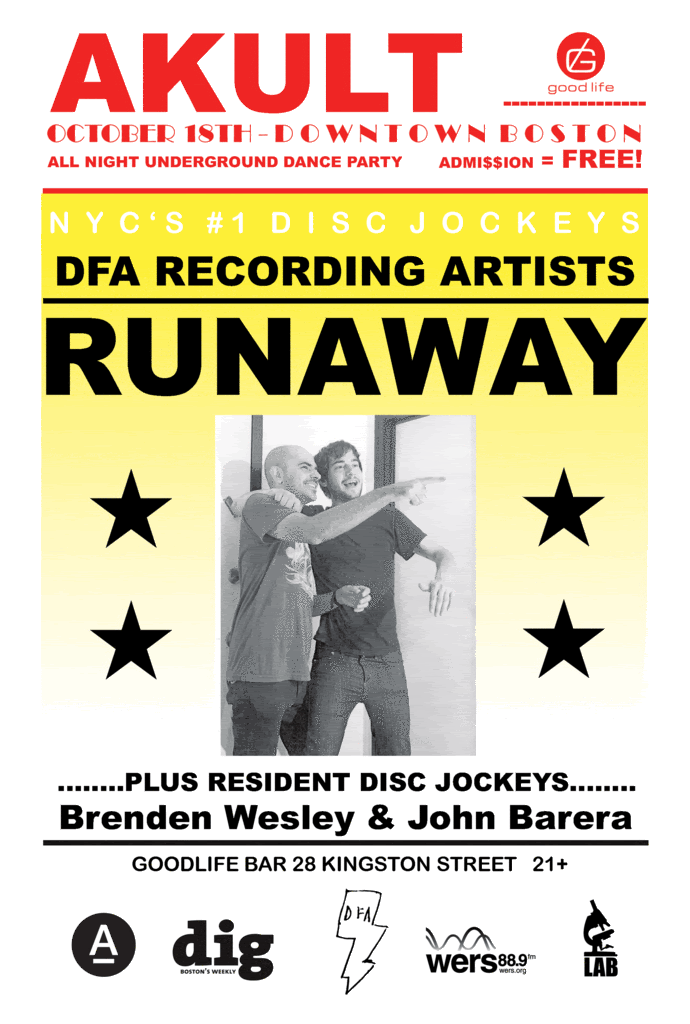 After their big debut on DFA, Brooklyn's Jacques Renault and Macros Cabral (aka Runaway) are back in Boston to give us one more night of Disco infused sounds at Akult's Disco Emporium (@ the Goodlife bar). If you haven't heard their track yet, "Brooklyn Club Jam takes elements from old school house, acid, and disco and melds them together into a chugging dancefloor mover that'll work at both the sophisticated club and the grimey warehouse"- And trust me, the folks at NY's Turntable Lab know EXACTLY what they are talking about. Here at Manifest Destitute we've been listening to this track for a minute now and we love it, but we are definitely grooving more to Brennan Green's version. It's all you want to expect from a House music piano riff, the Disco drums from heaven and a bass line so catchy you'd wish it was the beginning to "funky town". I hope DFA stops making singles this good, because it's really not fair to my pocket. I need to pay my rent and GOD knows James Murphy ain't paying my bills. Oh, did I forget to mention Runway are coming this Saturday to Goodlife in an all DFA Records sponsored event? What?...Get out of here!!! But for real, don't miss the party of the Fall this Saturday. The event will be brought to you by the good folks at WERS, The Weekly Dig, our friends at LAB and of course the Akult Disco crew. See ya Guys there (we'll be in the corner by the right speaker!) and don't forget to bring your dancing shoes!!!

Runaway Live @ Akult (Goodlife Bar)
28 Kingston Street
Boston, MA
Free Admission (21+)

Listen: Runaway - Brooklyn Club Jam (Brennan Green Version) (Buy it Here!!!)


C'mon, you know you want it!!! So don't miss it!