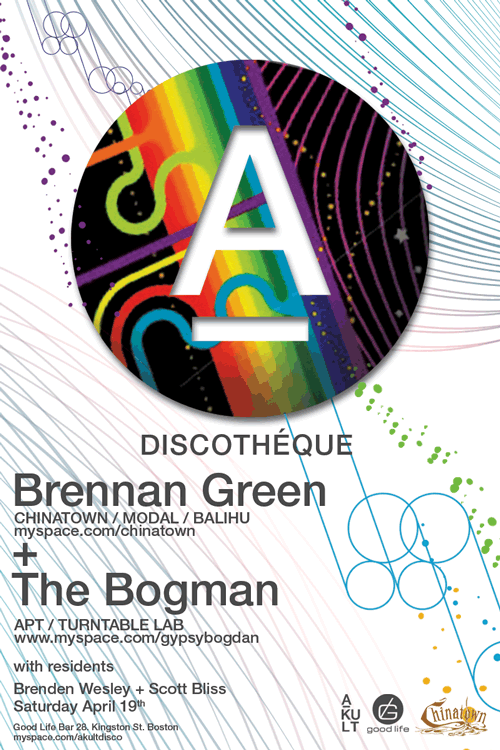 Saturday: Akult ft. Brennan Green

It's that time of the month again when we put on a nice pair of jeans, possibly a clean shirt, and some nice shoes to impress the ladies and the dudes. Like every month, we are gonna head over to Goodlife for what will be an awesome night of Disco Dancing courtesy of Akult, with special guests Brennan Green from Chinatown Records
and Turntable Lab's Cool Gypsy Bogdan. The First time I heard of Brennan Green was 3 years ago through a remix he did for Output's Lopazz. In recent years he's gone to remix bigger acts like the legendary Liquid Liquid and disco nostalgic Lindstrom.
Brennan's genre bending DJ-sets are sure to rock any dance floor taking a crowd through sounds that span Disco, House, Techno and Rock. So be sure you head over to Goodlife this Saturday because you won't wanna miss this. Opening the Disco Ceremony our friends Brenden Wesley and Scott Bliss.

Friday: Shitstorm!

Our friend Carl Robinson of the Band Shitstorm was here last weekend visiting from Brooklyn. We spent most of the day looking for kicks and talking about photography (of which i know nothing) and music. He mentioned his band was playing a show this week but he's always too humble to really plug himself, so this is where we come in. Shitstorm is one of those bands that have a deceiving name. I mean what would a Shitstorm actually sound like? Lucky for us, their music is actually appealing to the human ear despite all the toilet jokes we could make. You know...they actually remind me of the band Grey...yeah, the one led by Jean Michel Basquiat and a pre-pubescent Vincent Gallo. Maybe it's because they are from Brooklyn, maybe it's because they carry on a legacy of experimental music that doesn't suck. Either way...if you like experimental music worthy of the ICA (but wanna have the comfort of a PBR in your hand), then head over to the P.A's Lounge this Friday. I'll be there....and so should you.