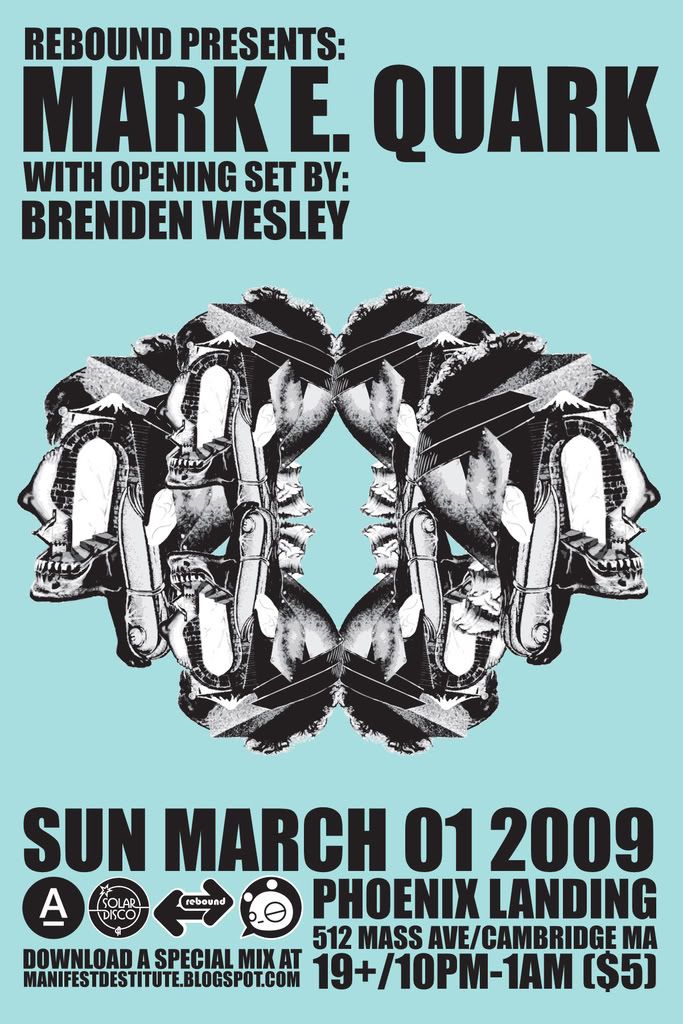 This Sunday, Boston welcomes early rave scene pioneer Mark E. Quark (SF Wicked crew). You don't want to miss this one because it'll be his first appearance in the Hub since 2004! "In 1988, at the tender age of 18, Mark E. Quark began his DJ career by playing substitution slots at KCR FM, one of only 2 underground radio stations in San Diego. Later that year he and and his friend,Gregg Pope were given their own 'Acid House' show KSDT FM college radio in San Diego, CA. By 1989, he became a resident dj in San Diego's premier nightclub, SOMA, playing acid house, industrial, disco, and other varieties of electronic dance music. During his three year residency at SOMA, he was responsible for increasing the clientele from about 200-300 people to about 800-1000 people on a typical Saturday night. By 1990 he had already begun to phase out the industrial sound and began to play strictly acid house, Belgian beat, and techno, which contributed to the steady crowd for the next few years. In 1991, while maintaining his residency at SOMA, he collaborated with roommate/soundman, Brian Weinberg and Playskool's Paul Smith to turn a 6,000 ft. warehouse space in to an underground club venue. The party was called 'Ware's The House' and set the foundation for what was to become the SD rave scene. In 1992, he was offered a residency in a popular downtown club called Club Geraldine's where he maintained a steady and increasing audience for 2 years. After being offered a residency at Playskool, another popular downtown club, he stopped working at SOMA and Club Geraldine's. He remained a resident DJ at Playskool for over 4 years, building up one of San Diego's biggest house nightclubs. Mark was eventually maintaining his own night called G-Force at an underground club, The Flame."

"Mark contributed to the club's increasing popularity for over 4 years and gained an extremely devout following. Although he was successful in San Diego, he wanted to be closer to where house music was more widely embraced. He also wanted to challenge himself in a city filled with other talented djs that were integral in inspiring his passion and love for the genre. As a result, Mark moved to San Francisco in 1996. In San Francisco, he quickly gained respect and played at legendary parties such as The Gathering, Basics, By the People's Out Of Sight parties, Stompy Dig In, and Sunset. In addition, Mark began a weekly Sunday night called Bionic Peanut Butter at The Top along with djs, Solar and IZ (Chicago). Mark began traveling throughout the United States and Canada as well as Europe, receiving resounding credit in France, where he played at the legendary Rex Club and Batofar. He has played alongside DJs such as Doc Martin, Derrick L. Carter, Lil Louie Vega, Kenny Hawkes, Gemini, Onionz, Dan Ghenacia, Hipp-E, Justin Harris, Phil Weeks, Hector Morales Mark Farina, the wicked crew, Halo and even Richard James (Aphex Twin), Moby nd more recently Maurice Fulton , Holy Ghost!, Kim Ann Foxman (Hercules & Love Affair), DJ Spun (Rong), DJ Cole Medina, Scotty Coats (Rong) and In Flagranti." He is also 1/4 of San Diego/LA based DJ collective and promoters Dos Dres who have been responsible for bringing acts such as Brennan Green, Tim Sweeney, Maurice Fulton, Radio Slave, DJ Spun, & In Flagranti to the west coast.

Opening set by Mark's friend Brenden Wesley (Akult/Solardisco). This one will be for the heads for sure.
Mark E. Quark
@ The Phoenix Landing
Sunday March 1st 2009
21+/$5
And as promised on that Weekly Dig Ad, check out a recent mix from Mark below. This set is stony, not exactly what he might play at the club. However, if one can be cerebral and soulful about nu-disco then he exemplifies that.
Download:
Mark E. Quark Mix for Love Noodles.
(Alt Link)